Most dirt bike riders choose to wear gloves because they offer some level of protection against rocks and dirt, or in case they go down. While they do give you some protection, it can still sting the digits when a rock hits a knuckle or a tree branch leaves a not-so-subtle reminder you need better hand protection. If you're ready to add a pair of handguards to your ride, these are the best dirt bike handguards to consider.
Choosing the Right Dirt Bike Handguards
Handguards seem like a simple item to add to any dirtbike, but there are three main considerations that you should consider before making a purchase:
What type of riding do you do most?
There are multiple options available whether you prefer to ride on a trail or a track, but that doesn't mean you have to pick the only choice for the preferred type of riding you do. Motocross, enduro, and open-trail riding have different levels of protection, and it's up to you to decide what protection make you the most comfortable.
What is the diameter of the handlebars on your dirt bike?
Most dirt bikes have a 7/8" (22mm) diameter and non-tapered handlebar from the factory, but there are aftermarket options that offer a taper or an oversized option at over an inch in diameter. You need to order the right size of handguard for the handlebar on your dirtbike.
Do you have a color or design preference?
As silly as color sounds, there are a lot of options out there. You may want to coordinate with your bodywork colors or go with something wild and unique. You have a lot of choices to mull over.
Handguards are broken into two different types: Motocross, also known as open-ended, and Enduro/Trail, also called wrap-around.
Motocross Open-Ended Handguards
If you're racing motocross, you know about dirt, mud, and rocks. Roost is common, and something you need to be concerned about. Motocross handguards are great for deflecting rocks and mud, but they don't offer protection for your levers.
Bump into another rider, or drop your motorcycle by accident, and your levers could be toast. They are meant for lightweight protection, but that doesn't mean they can't be used for trail/enduro riding. They do offer a bit of wind protection, and you can use them in multiple riding scenarios.
Advantages of Using Motocross Handguards
Lighter in weight than a wrap-around guard
Open-ended for easier hand movement
Attach at one point on the handlebars, often universal fit
Lower cost than a wrap-around guard
Easier to install due to fewer parts and one attachment point
Disadvantages of Using Motocross Handguards
Don't offer protection from bigger objects like large rocks or tree branches
Won't stop your levers from breaking in a crash
Guards may break in a crash or if the dirtbike is dropped as they only attach at one point on the handlebars 
Best Motocross Handguards
One of the most popular brands of motocross handguards is Acerbis. They have a model called the Uniko that many riders prefer, and we think they are a good recommendation if you ride motocross a lot.
Top Pick for MX
These guards have a simple aluminum mounting structure that is easy to install on your handlebars. No cutting is required for installation, and they come in many colors to match your bodywork or riding gear. The Uniko are available in a vented and a non-vented option that can be changed for riding conditions. Non-vented for colder days when less airflow on your hands is needed and vented for hot days.
Enduro/Trail Wrap-Around Handguards
Enduro handguards are the toughest of the guards available. They protect your hands and your levers in the event of a crash, a dropped dirt bike, or contact with rocks and tree branches. They are stronger than the motocross options as they attach in two places, and can offer some weather protection if you get caught out in a storm.
That said, be careful running enduro handguards or bark busters in motocross. AMA-sanctioned races, such as Loretta Lynn's, often don't allow them.
Advantages of Using Enduro Handguards
Stronger mounting scheme (two points vs. one) offering more durability
Can survive most crashes without significant damage
Will protect your hands and levers
Disadvantages of Using Enduro Handguards
Can limit hand movement due to the closed-end design
Heavier in comparison to motocross guards
Mounting is more complex and can require cutting the handgrips during installation
More expensive than motocross guards
Best Enduro/Trail Handguards
We recommend the Cycra Probend CRM if you need the best enduro handguards. We like these the best as they have a unique feature of a bend at the attachment point on the end of the handlebar. It's easier to move your hand, and with a steady aluminum frame, they will last for many seasons of riding.
The shields are replaceable and there are different size options if you prefer a smaller or larger shield for weather and roost protection. The Cycra guards come in multiple colors to match your current bodywork or riding gear.
Top Enduro Pick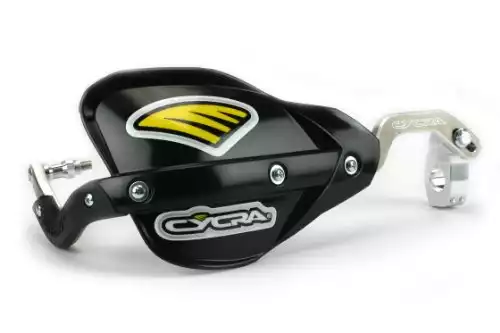 Best Mixed-Use Dirt Bike Handguards
There are two main types of handguards, but many riders use their dirtbikes for more than one type of riding. For those riders that mix track and trail, they need a mixed-use or hybrid handguard. We recommend checking out the Barkbusters VPS set if you need guards that can do it all.
Here is the Barkbusters VPS mounting kit:
And here are the plastic guards to go with the mounting kit above:
Barkbusters has been in business since 1984 and they are continuing to push the dirtbike community forward with their forward-thinking designs.
The VPS stands for Variable Protection System and should give an indication that this handguard kit can be configured to your riding requirements. The kit features an aluminum backbone that allows for multiple guard sets to be used based on colder or hotter riding conditions. Each kit is designed specifically around your dirtbike, so you can expect maximum protection with minimal intrusion into your hand space while riding.
Gloves protect your hands when riding offroad, but your protection doesn't have to stop there. Dirt bike handguards are a low-cost option to add an additional layer of protection. The question is what style of guard you want, what features best fit your riding, and then the tough choice of what color to choose. No matter the outcome, adding the best handguards will add a little comfort to your next riding session.
Frequently Asked Questions About Dirt Bike Handguards
Are motorcycle handguards worth it?
Yes, motorcycle handguards are worth it. They can protect your hands and your brake levers. The cost of levers alone can cover the cost of handguards.
Do you need handguards for motocross?
No, you don't need handguards for motocross. Handguards can help sometimes in motocross, depending on the conditions, but you do not need handguards for motocross.
Do motorcycle handguards work?
Yes, motorcycle handguards work as long as you buy a quality brand that fits your bike properly.